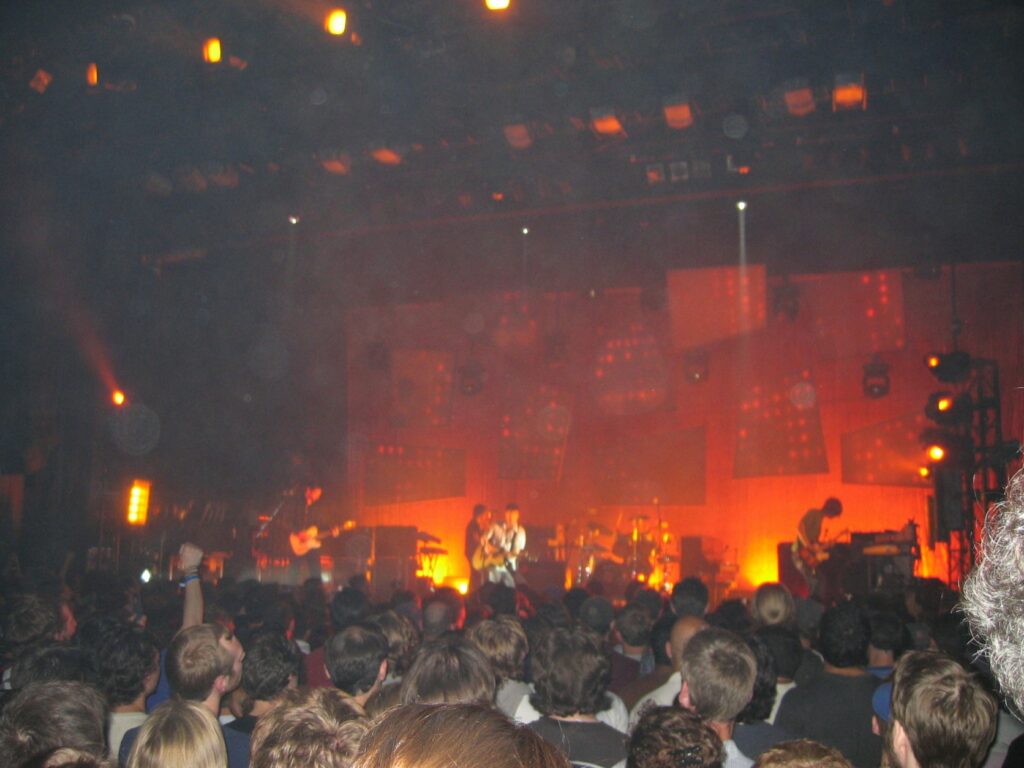 Steven Santarpia Radiohead 1997
This is story is of how I, Steven Santarpia became a fan of Radiohead. I heard Radiohead's Creep on the radio around January of 1997. I knew the song and was always neutral about it. For some reason this time, it caught my hear cause I immediately wanted to learn it on the guitar. So I purchased Pablo Honey. The album didn't grab me at first. I mostly listened to Creep because I enjoyed playing along to the song on the guitar. It was an easy song to play on the guitar. Just a few chords. This was perfect for my playing style. Then little by little, the rest of the album grew on me. Stop Whispering was the next song that sucked me in. Eventually, I was listening to the whole album just about every day. I became a fan.
After about a month of listening to Pablo Honey, I needed more. I purchased The Bends. Immediately, the album blew me away. I spent so much time listening to it. The songs, the album were never on my radar when it came out. I like to think this was partly because I was living up in Maine in 1995. There was no music buzz going on where I was living. No scene. When 38 Special played near me, it felt like the second coming of The Beatles the way the radio station promoted the concert.
Fake Plastic Trees was easily my favorite song on the album. Thom's voice was just a thing of beauty. The guitars came in with such force. I never heard anything like it. So I played the fuck out of the album. I loved playing along on my guitar. When I saw that they dedicated the album to the late comic Bill Hicks, it just made me appreciate them even more. Bill was not a mainstream comic. He was a guy who told it like it was and was way ahead of his time. I feel fortunate to have seen Bill Hicks preform twice before his passing. He remains a huge influence in my life and my favorite comic. So yeah, I couldn't get enough of these Radiohead guys. They were speaking to me on every level.
There was a lot of buzz going on when Ok Computer came out in May 1997. I remember thinking to myself. There is no way that album will be better than The Bends. So I was hesitant to buy it when it first came out. Plus, I was still in a deep haze with The Bends.
I remember seeing Fishbone at Tramps in NYC in August 1997. After the show, a friend told me how much he was digging Ok Computer. He was someone I could trust when he put his seal of approval on a band/album. So not too long after, I purchased it.
The first three listens I was like, this is good, but its not as good as The Bends. The fourth time I listened to the album, I had headphones on. I started with the first song Airbag, then continued. By the time I got to Let Down, it shook me. It was like greatest song i've ever heard. I had to listen to it again. I was like having a religious experience. To this day, its my favorite Radiohead song. The whole album was deeply moving, haunting, unique. It was everything you can ask for with music. Thom's voice took everything to the next level. There was no sign of grunge. It had their own unique sound (I still don't get the Pink Floyd comparisons. I just don't hear it).
I went from casual fan in January to full on obsessed fan in August. I couldn't get enough. So when tickets when on sale for their December 19, 1997 show at Hammerstein Ballroom, in NYC, I was getting in no matter what. I don't remember how we scored tickets but we did. We sat on Johnny side, second balcony on the right. Great seats. I remember the MTV camera right next to us filming the show. The song that stood out for me at this show was Exit Music. Thom's voice just soared. I remember when the song ended and my friend and I just looked at each other and said, "Wow". I loved their albums but seeing them live, took the music to a different stratosphere. I didn't think that was possible with their music. You had to listen to it live! Some bands have great albums and their live shows are so so. Some bands are great live and the albums are just ok. Radiohead was the complete package and I was ready to take the ride. This is pretty much how I, Steven Santarpia became a fan of Radiohead.
Looking back, 1997 was a very special year for me. It took me on a course in which so many great things have happened to me because of this band. It's the end of 2020 and I'm still on the ride. Waiting for them to take me to a place no other artist or band can do at this point.I am eternally grateful and indebted to the music and idealisms of Radiohead.